Markets
Turkish lira erases post-inflation gains
The Turkish lira fell to the level of USD/TL 8.71 after deleting the intraday interests following the 17.53 percent inflation data in June.
(mtag101702)
After climbing to the level of 8.74 in the last week, following a fluctuating course, the dollar / TL decreased to 8.64 during the week. The fact that the employment data in the USA exceeded expectations increased the panic about inflation and caused the dollar to weaken.
(mtag101702)
The Bloomberg Dollar Spot Index is at 1.139 on Monday after climbing as high as around 1.146 on Friday. The 10-year US Treasury bond yield is hovering around 1.42%.
(mtag101702)
While Turkey's credit default risk premium (CDS) is around 384 basis points, the 2-year benchmark bond rate is at 18.47 percent.
(mtag101702)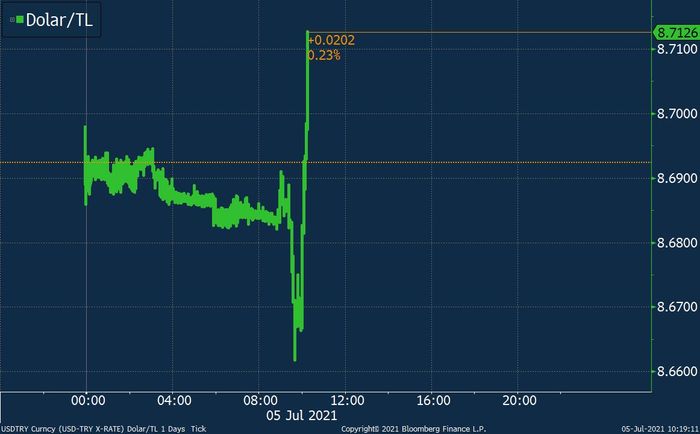 (mtag101702)
Inflation in Turkey at the peak of 2 years
(mtag101702)
Consumer prices increased by 17.53 percent in June compared to the same period of the previous year. Thus, annual inflation rose to the highest level since May 2019.
(mtag101702)
According to the data announced by the Turkish Statistical Institute, the monthly increase in consumer prices was recorded as 1.94 percent. Annual core inflation was 17.47 percent in June.
(mtag101702)
In the Bloomberg HT Research Unit's survey, the market's claim was that annual inflation would be 16.9 percent. The monthly inflation assumption was 1.4 percent.
(mtag101702)
Dollar/TL and inflation update from Deutsche Bank
(mtag101702)
Deutsche Bank announced in a research report that it revised its year-end inflation assumptions from 15 percent to 16 percent after the hikes in electricity and gas prices.
(mtag101702)
Emphasizing that the effect of the increases made at the beginning of July can be better understood with the inflation data of July, Deutsche Bank stated that they expect the inflation to increase rapidly in July to exceed 18 percent.
(mtag101702)
The institution, which also updated its year-end forecast for USD/TL from 9.00 to 9.50, underlined that the recently announced mandatory reserve measures signaled a return to unconventional monetary policy measures.
(mtag101702)
Deutsche Bank, which expects the Turkish economy to grow by around 22 percent in the second quarter, said that they have increased their 2021 growth estimation for Turkey from 5.5 percent to 6.9 percent, together with accelerating vaccination efforts and high-frequency information announced in June.
(mtag101702)